Touchscreen
Swipe from the corners to turn a page.
Double Tap to Zoom in and again to zoom out.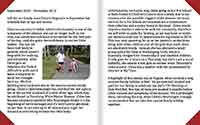 Desktop PC
Click the corners, or use the arrow keys to turn a page.
Click a page to Zoom. Press 'Esc' to exit the zoom.
Click and drag the mouse to move pages when zoomed.