As this disease is so rare, with only 4 known cases in Australia and an estimated 100 living cases worldwide, there is next to no funding provided by governments, organisations or pharmaceutical companies.
Therefore it is left to the families affected to raise the much needed funds to find the cure for Vanishing White Matter Disease.
We appreciate the many donations we have had from our family, friends and local community.

We would like to thank the following organisations for their generosity in fundraising to save Chloe.
BUNNINGS BBQ FUNDRAISER – MARCH 2015
A big thank you to all of our family and friends who helped make the Bunnings BBQ such a huge success.
Over $3000 was raised on the day which will go towards Finding a Cure for Chloe and all of the other precious children suffering from VWM disease.

Family and Friends at Bunnings
MMJ NORTH BBQ FUNDRAISER – SEPTEMBER 2014
Thank you to our lovely friends Jody and Troy Phipps and their team from MMJ North Real Estate for hosting a BBQ fundraiser for Chloe at Spring into Corrimal.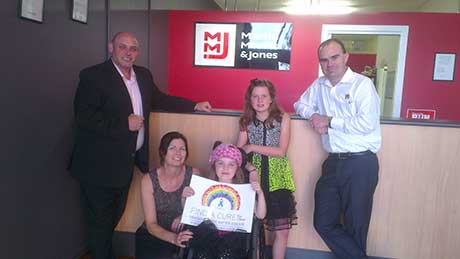 MMJ North office with Troy and Andrew
BUNNINGS BBQ FUNDRAISER – SEPTEMBER 2014
Thanks to Aunty Nic Nic and Uncle Gaz for organising the BBQ at Bunning's Wollongong to raise funds to Find a Cure for VWM.
Thanks also to Woonona Lions Club who so generously helped out all day!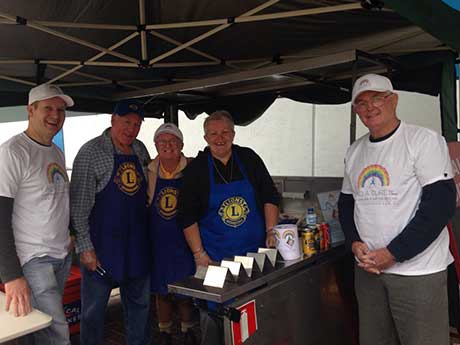 BBQ Fundraiser
KEIRA HIGH SCHOOL FUNDRAISER – JUNE 2014
Big thanks to the gorgeous Serena Buckley who organised a BBQ fundraiser at her high school, Keira High (Ny's old high school!).
Serena and her friends raised an amazing $800 for Chloe.
BALGOWNIE PUB LUNCHEON AND COCKTAIL NIGHT – APRIL 2014
Thank you so much to Mark, Eddy and their families and friends from Balgownie who held a fundraiser luncheon at Balgownie Pub, where they managed to raise an unbelievable $25,000 for Chloe.
A Cupcakes and cocktails night was held a couple of weeks later.
A large portion of these funds are being used to fund vital research to Find a Cure for VWM.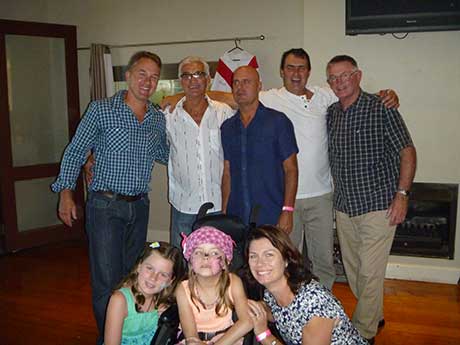 Balgownie pub luncheon
ENVIE – BLACKMORES SYDNEY MARATHON – SEPTEMBER 2013
Thank you to the team of over 40 participants who ran in "Run for Chloe" singlets in the different parts of the Marathon to raise money for Chloe.
Thanks Alita for organising the fundraiser xx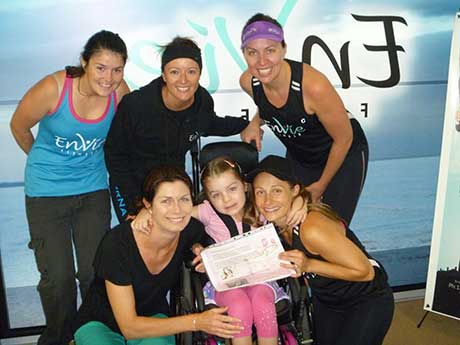 Envie Fundraiser
TEAM CHLOE SAXBY – SEPTEMBER 2013
A huge thank you to Aunty Nic Nic and Uncle Gaz, Phil and Jac Irwin, Mandy and Mike Bodman(and our VIC friends) and everyone who had anything to do with selling Cadbury's Chocolates!!
A massive thanks also to the amazing "Team Chloe Saxby" that ran the Blackmore's Sydney Marathon to raise funds to complete the wheelchair conversion of our car.
Funds raised will also go towards finding a cure for VWM!
Special thanks to our wonderful family in QLD, the Tobin's and the Teoka's for your love and support.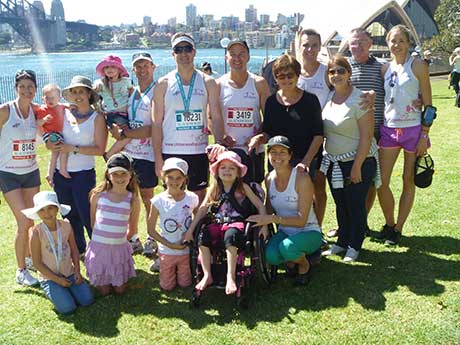 End of Marathon Team Chloe Saxby
C3 CHURCH, THIRROUL - SEPTEMBER 2013
Big thanks to my Aunty Marcelle for arranging several fundraisers through her C3 Church at Thirroul, raising a total of $850.
LIONS CLUB THIRROUL/AUSTINMER, AUSTINMER OTTERS, VARIETY NSW – SEPTEMBER 2013
Thank you to the generous men at the Lions Club of Thirroul/Austinmer for taking on Chloe as their "project" for this year – Brian, you and the boys are very special people providing $10,700 towards our car wheelchair conversion.
Thank you also to Austinmer Otters Winter Swimming Club and Variety NSW who donated $5,000 each towards the conversion of the car to wheelchair accessibility.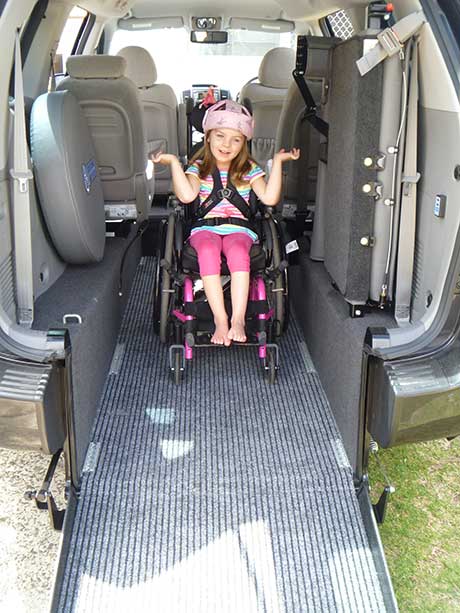 Car conversion Chloe in wheelchair
WEST'S ILLAWARRA – July 2013
A huge thank you to West's Illawarra for enabling mum and I to attend the United Leukodystrophy Conference in Chicago in July.
We will be forever grateful to West's for providing us with the opportunity to meet the only two Professors in the world working on a treatment/cure for Vanishing White Matter Disease.
It also enabled us to meet other VWM families from around the world to collaborate and take more of a united approach in raising awareness and funds for a cure for VWM.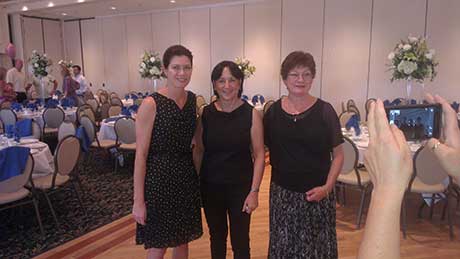 Orna, mum and I
KIDS FUND – THE DISABILITY TRUST
Kids Fund have been so amazingly supportive of Chloe in the past year, they have supplied us with:
- A Pushchair (special stroller) $3,500, which was donated through a local company CSC.
- Wrap around bath seat $1,200 to help us with bathing Chloe.
- AFO's (Ankle foot orthotics) $1,500 to keep Chloe's feet at the correct angle.
- Manual Wheelchair $9,500 to give Chloe the independence she needs.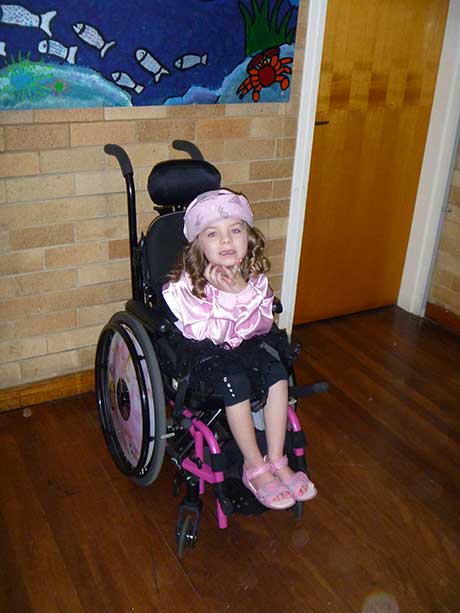 Chloe in manual wheelchair.
ANNA BLACKMAN IMAGES March 2013
We are eternally grateful to Anna Blackman for providing us with a professional photo package, which we had taken at Little Austinmer Beach, thank you to you and Zie for providing us with memories we will cherish forever.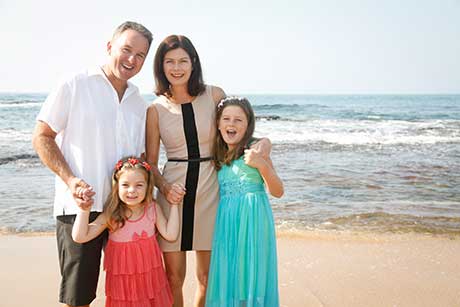 Anna Blackmans family shot
NORTHERN STARS SWIM SCHOOL – March 2013
The amazing staff of Chloe's swimming school dedicated themselves to a weeklong fundraiser which raised over $16,000; along with sausage sizzles and cake stalls , the children of the swim school paid to have their hands painted on two huge murals called "Chloe's Tree of Life" where Chloe is a butterfly and "Chloe's Aquarium" where Mads and Chloe are mermaids.
The fundraiser ended on the Saturday with raffles, silent auctions, jumping castle, sausage sizzles and to Chloe's surprise a fire truck turned up and she got to spray the fire hose!
Julie Eager from Eager Fitness and two of her friends surprised us with a donation of $2,600 which they had raised doing hundreds of "Burpees"!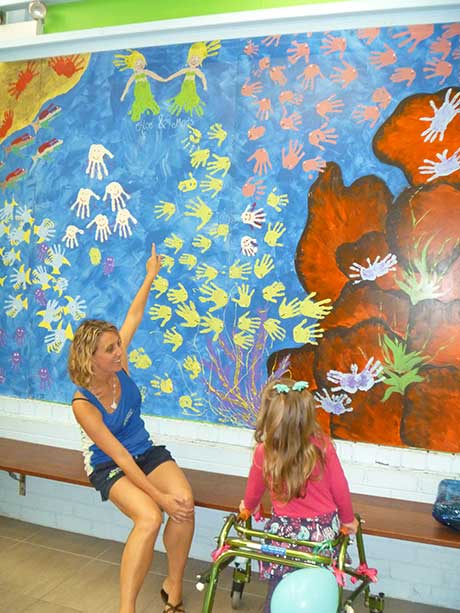 Chloe's Aquarium
COMMONWEALTH BANK, WOLLONGONG – January 2013
A huge thank you to the staff and clients of the Commonwealth Bank's Wollongong Branch for the Christmas raffle which raised $1,145.
In particular special thanks to Tracey for co-ordinating the fundraiser and thinking of Chloe and also Riley, Leasa, Leanne, Sue and Maria for their hard work!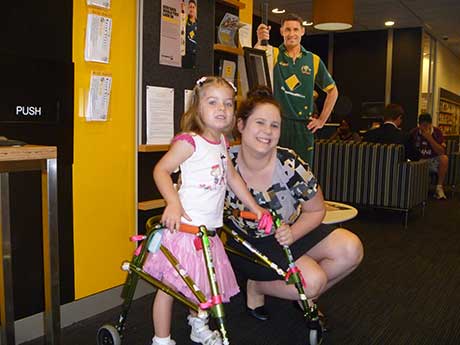 Chloe with Riley from the Commonwealth Bank.
KIDS FUND – THE DISABILITY TRUST – December 2012
Thank you to Kids Fund for donating a paediatric toilet stand which makes toileting Chloe a little easier.
As Chloe's motor skills have deteriorated, it is difficult for her to write, colour and play with many of the toys/games other children enjoy, to combat this; Kids Fund kindly donated an iPad.
WOONONA PUBLIC SCHOOL SRC – December 2012
Many thanks to the SRC at Woonona Public School (Mad's school) for choosing to donate the $500 raised from their Mufti Day to Chloe.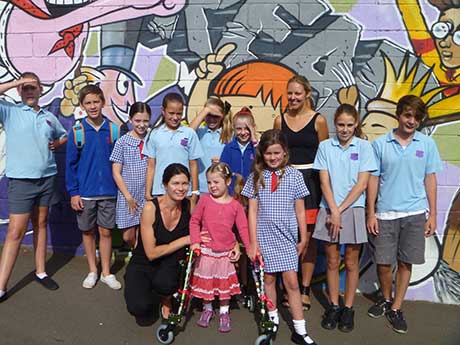 Nyree, Chloe and Maddy with Woonona Public School Student Representative Council
BALLS PADDOCK PRE SCHOOL CHRISTMAS FUNDRAISER – December 2012
An absolutely amazing job done by Jess, Jenny, Brooke, Amanda, Kylie and all the staff at Balls Paddock Pre School for putting on a great day transforming their Christmas Party into a fundraiser for Chloe.
Your hard work in organising this special day is truly appreciated by our family and we couldn't believe it when you told us you had raised $7,000 for Chloe.
Special thanks also go to the parents from Woonona Public School for their incredible baking efforts for the cake stall!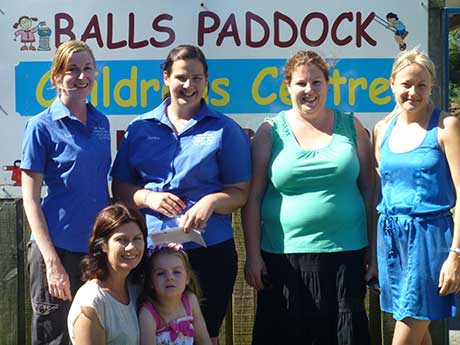 Chloe & Nyree with Jenny, Jess, Amanda & Brooke from Balls Paddock Pre-school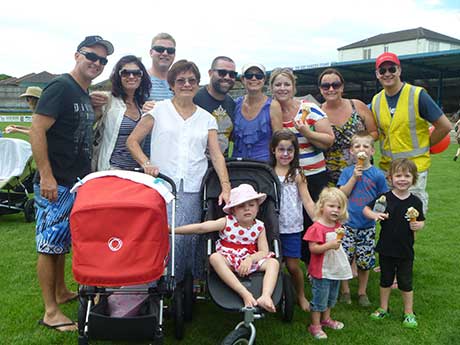 Chloe with the Frodsham Family, Saxby Family, McCreadie family & Laurie family at the Balls Paddock Fundraiser.
UNITED MINE WORKERS UNION – December 2012
Thanks to Bob Timbs and the United Mine Workers South Western District for donating $500 to Chloe.
GRANT'S WONGAWILLI MINE WORK COLLEGUES – December 2012
Thank you very much to all of Grant's colleagues at Wongawilli Mine for raising $4,000, your generosity is overwhelming and very much appreciated!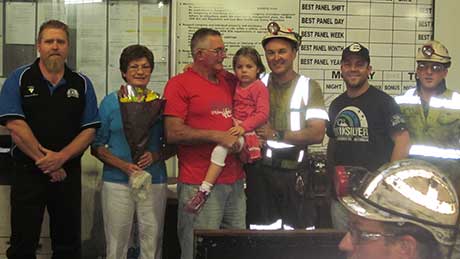 Bob Timbs, Nikki & Garry Tobin (Chloe's Grandparents), Chloe, Grant, Scott Ryan and Nathan Porteous.
RUS MINING – December 2012
A big thank you to RUS Mining for their generous contribution of $350.
JOE MAZZA, PRECISE AIR – December 2012
One of the main triggers that can accelerate Chloe's condition is prolonged exposure to heat. Chloe's body temperature must remain below 37.5 degrees. Joe from Precise Air, we cannot thank you enough for donating an Air Conditioner for use in our family home. Thanks also to our good mate Simon Jones for installing it for us.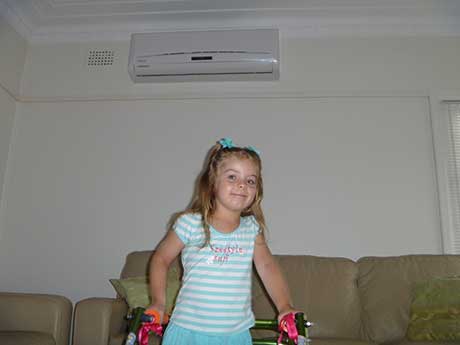 Chloe enjoying our new air conditioner, supplied by Joe from Precise Air.
BAINES CONCRETE, WOONONA – November 2012
We are grateful for the concrete supplied by Baines Concrete which was used for the construction of a disabled ramp to enable Chloe access to our home.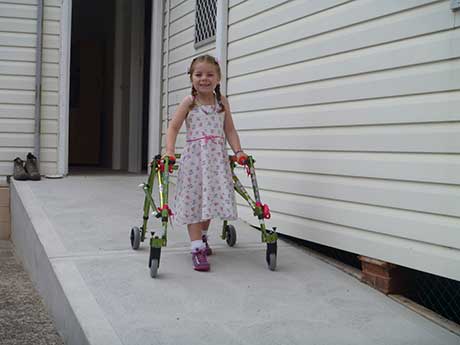 Chloe walking down her special ramp, created with concrete supplied by Baines Concrete, to access our home.
FOCUS IT – November 2012 and ongoing
Words cannot express how grateful we are to Andrew from Focus IT for the design, creation and maintenance of Chloe's website.
Thanks for donating your time, skills and hard work, we didn't know where to start and without your generosity this website wouldn't exist. It is by far the prettiest website we have ever seen – you are brilliant!
Andy, you have a very big heart and thank you for wanting to help and tell Chloe's story.
BALGOWLAH BIRDIES AND SWINGERS LADIES GOLF CLUB – September 2012
Our sincere appreciation goes to the Balgowlah Birdies and Swingers for their generous donation of $1,250 which will be put towards the cost of purchasing paediatric equipment for Chloe.
KIDZWISH FOUNDATION & ECOCEM PTY LTD – August 2012
Thank you to the Kidzwish Foundation for sourcing and Ecocem Pty Ltd for kindly donating Chloe's very own paediatric walker which she fondly calls "Green Green" and a special bike which has been modified for Chloe to use.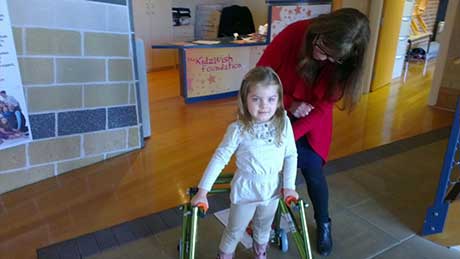 Chloe with her new walker and Lynne, her Physiotherapist.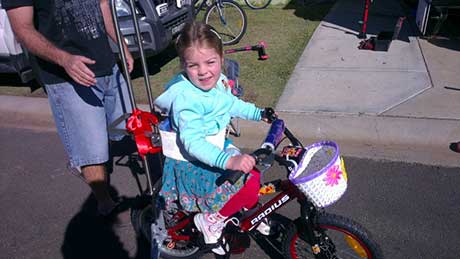 Chloe on her new special bike supplied by Kidzwish & Ecocem