Chloe is a beautiful 7 year old girl who was diagnosed three years ago with an extremely rare and degenerative brain disease for which there is no cure or treatment available.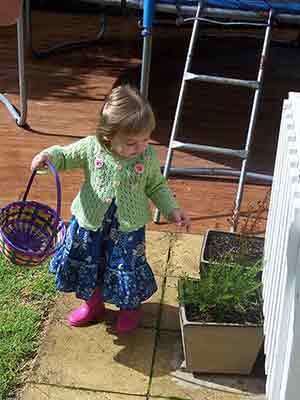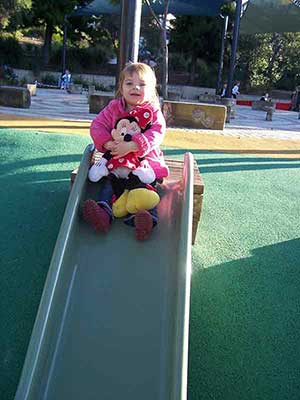 VWM is a devastating genetic, terminal brain disease that affects mostly children, with most patients diagnosed between the ages of 2 and 6 years old. In a very short period of time, it causes the inability to walk, talk and eat as well as blindness, deafness, loss of motor skills, mental retardation, spasticity, seizures, and coma and is followed by death often before reaching teenage years. Even a small bump to the head, a fever or infection could end Chloe's life. There are only 7 known cases in Australia and 172 living worldwide.
This is Chloe's story so far...
In January 2012, Chloe was running around, riding her bike, dancing, swimming and enjoying her childhood like any other 3 and a half year old girl. Chloe loves Minnie Mouse and Tinkerbell and she adores her older sister Mads (Madeleine), aspiring to do all the fun activities that Mads enjoys like surf club, swimming club, netball and dancing. Sadly, we realise now that these aspirations are no longer possible due to her diagnosis of Vanishing Whiter Matter Disease, a form of Leukodystrophy.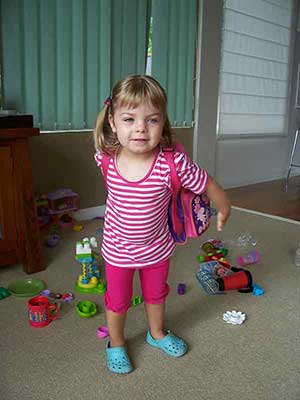 After contracting a vomiting virus in February 2012, we noticed Chloe became unsteady on her feet, and her little hands would shake. After a week of no vomiting or temperature, she seemed to be on the mend, so she went along to her Pre School day at Balls Paddock Children's Centre, Woonona. Chloe's teacher Jess called us with concern as Chloe had been stumbling around, very unsteady on her feet and could not get herself out of the sandpit.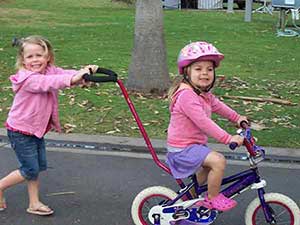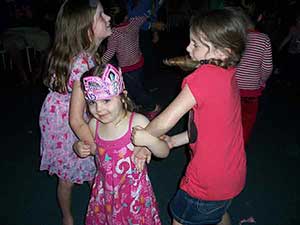 We took Chloe straight to our doctor, who conducted numerous blood tests and referred us onto a Paediatrician. The Paediatrician assessed Chloe and sent us immediately to Wollongong Hospital for further investigation including urine tests, more blood tests and an MRI scan on Chloe's brain. The MRI was performed at 10pm that night, Thursday 1st March 2012 and half way through, we were asked for permission by the MRI consultants to inject Chloe's brain with a special dye to give the Paediatric specialist a clearer picture of the problem in Chloe's brain.
It was at this point that we realised deep down that something was seriously wrong with our little girl.
The following morning, Chloe's Paediatrician informed us that he had "good news and bad news". He said "the good news is, it's not a tumour, but the bad news is we don't know what it is, however it is rare and serious. The scan results of Chloe's brain are not normal and I have sent the MRI to Neurologists at Sydney Children's Hospital, where there is a bed waiting for Chloe".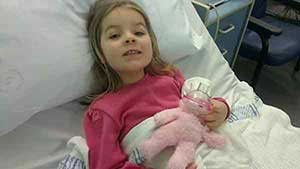 In absolute shock, we packed our bags and drove straight to Sydney Children's Hospital. A team of Neurologists who had already examined Chloe's MRI were waiting for us when we arrived; this was when the fear and panic really set in. They examined Chloe and conducted further tests, after which Chloe's Neurologist told us that her MRI scan showed the White Matter of the brain as being "too bright" – which was abnormal and extremely rare. He requested our permission to send a copy of the MRI to the world renowned expert on Whiter Matter diseases of the brain, based in the Netherlands, Professor Marjo van der Knaap for her to analyse. I will remember this moment forever.
If we thought we were in shock on the drive to the hospital that was nothing compared to how we felt now. The Neurologist explained to us how the White Matter of the brain is composed of nerve fibres and myelin. The myelin (a fatty sheath) is wrapped around the nerve fibres. When the myelin sheath is damaged or disappears, the conduction of impulses along the nerve fibres slows down or fails completely and brain functions and signals become hampered or lost. The Neurologist told Grant and I to prepare ourselves for a long, difficult road ahead and that it could take many months of testing for a diagnosis, with 50% of Leukodystrophy cases unable to be diagnosed. Whilst at the hospital, Chloe had further blood tests and a Lumbar Puncture performed (removal of spinal fluid). It was then a matter of waiting, knowing that something rare and serious was happening in Chloe's brain.
Two weeks later, we were advised by Chloe's Neurologist that they had not yet heard anything back from the Netherlands, but all the testing done in Adelaide had come back negative. This was an incredible blow to us, as they were testing for all the treatable diseases first before they moved onto the diseases that could not be treated. Grant and I were devastated. Chloe then had further blood tests that were sent off for analysing.
During this period, Chloe could only walk if people were holding her on both sides and sometimes she couldn't walk at all. Prior to this, Chloe was a gentle natured, carefree and happy little girl, with a lot of love to give. Now, she becomes frustrated easily with her inability to partake in normal kids activities that she used to enjoy before. Simple things, like playing in the park, threading beads for arts and craft and taking walks to pick flowers for her Ninny and Da (Nan and Pop). We would also notice that a jolt, like a shock went through her body at random times and really frightened, she would scream and need to be held tightly whenever it happened. Chloe was given a paediatric walker to use by her physiotherapist (as by now she could not walk at all unaided) and once she built up some confidence, she flew around the house on it, taking out anything in her path, including walls and her very patient older sister, Mads. This gave Chloe back some of her freedom and independence. By this stage we had regular appointments with Doctors, Paediatrician, Physiotherapist and a Psychologist Chloe was unable to attend Pre School due to her mobility issues and risk of infection.
Monday 30th April at 3.30pm, we received the telephone call that I will never forget. Chloe's Neurologist advised me that he had received an email from Professor van der Knaap, and that she was "highly suspicious" (90% sure) that Chloe had "Vanishing White Matter Disease", which is incredibly rare. He said there had never been any cases of it at Sydney Children's Hospital or Westmead Children's Hospital and from the research he has done, it is a degenerative disease, with no cure. Professor van der Knaap requested Chloe's DNA to be sent to the Netherlands to enable her to do Genetic testing to try and confirm a diagnosis, which could take up to 6 months or longer. Now that we had a possible diagnosis, Chloe's Neurologist knew I would look it up on the Internet and he said to prepare myself that I would not find very positive information.
He was right. What I found was terrifying. Our whole world had been turned upside down. The more I read and researched, the more I realised that there was no treatment available and absolutely nothing that could be done for Chloe. Worse still was reading that the average life expectancy is 5 to 10 years from the onset of the disease. To hear this is every parent's nightmare. What about all the hopes and dreams I had for my little girl? Not only would she be robbed of a normal childhood, but she wouldn't be able to do things like running carefree in the sand, skipping, dancing, backpacking around Europe or growing up to be a doctor, nurse or a mum herself one day.
We went back up to Sydney Children's Hospital and Chloe had more blood taken to be sent across to the Netherlands. We discussed with Chloe's Neurologist the confirmed triggers for Vanishing White Matter Disease, which would make Chloe deteriorate; fever (above 37.5 for Chloe), head trauma (even a minor bump to the head), emotional/physical stress, fright and spending too long in the sun. Hard things to protect a toddler from at the best of times.
We left the hospital, once again, in a state of shock. How could this be happening to our little girl?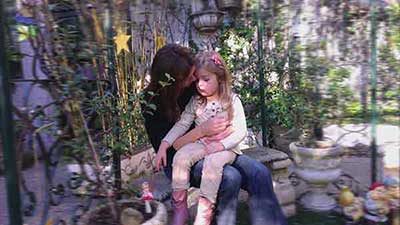 Over the next four months I researched every night, but to my dismay I found there is not a lot of information readily available on Vanishing Whiter Matter Disease (which is one of the reasons for this website, to share information). I found that several companies in the world are looking at using stem cell therapy to treat other forms of Leukodystrophy. In particular, there are two institutions searching for a treatment for Vanishing White Matter Disease. They are Professor van der Knaap at VUMC, Amsterdam, The Netherlands and Professor Orna Elroy-Stein at the University of Tel-Aviv in Israel, who has been working at unravelling the complexity of the disease for the past 15 years. I have been in contact with both Professors. If/when a treatment may become available, (a number of years away from human trials), it is unlikely to undo the damage that the disease has already caused, but rather, stop it from progressing.
On the 13th July, Chloe came down with a cold, together with her first temperature of 38.4 degrees and couldn't even walk on her walking frame for almost two weeks. We were very worried, as we had no idea what to expect. We travelled back up to Sydney Children's Hospital, where Chloe was put under anaesthetic and had another MRI scan of her brain, her 2nd Lumbar Puncture and a small skin biopsy taken from the top of her leg. We were advised that there was no change in her MRI, which was positive and it was being sent to the Netherlands for analysing.
It was on Wednesday 5th September that we travelled to Sydney Children's Hospital to receive the final blow. Professor van der Knaap confirmed to Chloe's Neurologist that she has Vanishing White Matter Disease. Grant and I were both devastated, even though had suspected it to be the case; we still hoped it wasn't. To hear the Neurologist confirm that our little girl had an incurable brain disease was earth shattering. Our Chloe had gone from being able to walk, run, dance and ride a bike, to not being able to stand or walk on her own within a one month period. Her little hands shake and finally we knew the reason why.
Our focus now is on raising as much money as we possibly can to fund research to Find a Cure for VWM, as that's the only way we can save Chloe and the other VWM children around the world.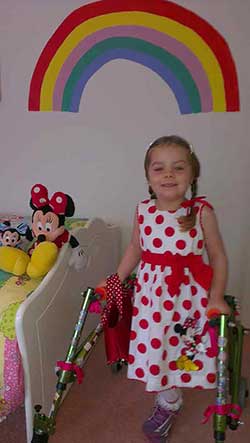 Chloe